Community Support
There are many ways to support our CBS through community partners and various fundraisers. We have some of them listed below and offer them as ways that you can support Curtis Baptist School. We are thankful for the different ways our families can contribute to our school community. There is a lot of information below. We have tried to sum it up so you can get a glimpse of the different ways you can be involved.

SRP Affinity Debit Card - SRP is committed to the community and making a difference. Join SRP in their efforts to give back to our school by requesting a Curtis Baptist School debit card! Every time you use your Curtis Baptist School debit card, SRP gives money to our school! SRP makes it easy for YOU to make a difference. Learn how to get a Curtis Baptist School debit card at www.srpfcu.org/AffinityCards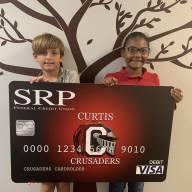 Box Tops for Education
For over 20 years, Box Tops for Education has given families an easy way to earn cash for their school with products they already buy. Now you can simply scan your store receipt with the Box Tops mobile app to identify participating products and instantly add cash to the CBS online earnings. (The Box Tops class and individual competitions we have enjoyed over the years will not continue due to not being able to track who is earning through the app.)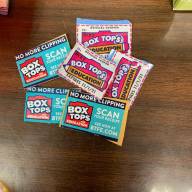 Publix Partners
To sign up for Club Publix (https://www.publix.com/myaccount/register), click Publix Partners, and select Curtis Baptist School to sign up for the program. It will be ready for you to enter your phone number at Publix every time you check out and a portion of your purchase will be donated to CBS.
Curtis Spirit Store
Be sure to check out the Curtis Spirit Store in the elementary office.
Mugs – $5
Rally Towels – $3
Thumb drives – $12
Visors (red) – $15
Ball Caps (red) – $25
Spirit Shirt Exchange
Do you have Curtis spirit shirts that your family has outgrown or no longer wears? You can donate those to the Spirit Shirt Exchange and get a shirt that is the size you need. If you do not have shirts to donate or exchange, you can purchase one for $5 per shirt from the Exchange. The selection of sizes and themes is constantly changing depending on donations. This helps you empty your t-shirt drawer and helps others by giving them more options for Spirit wear. Shirts can be dropped off and selected in the Elementary Office. The money raised from the Exchange goes to the Crusader Club.
Soda Tabs for the Ronald McDonald House
The soda tabs from any can of soda provides extra funding for the Ronald McDonald House which serves families staying in Augusta whose children are hospitalized at the Children's Hospital of Georgia. Our Middle School Learning Place collects and delivers the soda tabs to our local Ronald McDonald House several times a year. A collection bin is located in each school office.